Song Jixin Profile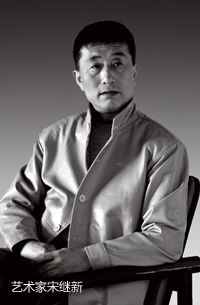 Song Jixin, born in 1965 in Fushun City, Liaoning Province, graduated from School of Art of Fushun Teachers College, and completed a course in Chinese Artists Association's traditional Chinese painting senior seminar. He was taught by Chinese famous graphic artist professor Zhao Jinghuan. He joined Chinese Artists Association to be a member, Chinese Graphic Artists Association to be a member, Liaoning Artists Association Graphic Art Commission to be Vice Director in 1999.
His works were exhibited in 8th, 10th, 12th National Fine Arts Exhibition, 11th, 12th, 13th; 14th National Graphic Arts Exhibition, 2003 Beijing International Art Biennial Exhibition, Chinese Arts Goldcolor Prize Works Exhibition, 2-6th Chinese Artists Association Traditional Chinese Painting Exhibition, 2012 First Chinese Artists Association Graphic Art Exhibition, 2005 National Traditional Chinese Painting Nomination Exhibition, 2008 Chinese Painters Association "Ink Pinnacle•Reflecting Five Rings" National Chinese Painters Invitation Exhibition, 2009 China National Academy of Painting "Paintings in Flourishing Age" National Chinese Painters Academic Nomination Exhibition, 2011 Traditional Chinese Painting Association "green • harmony" 2nd National Chinese Painters Works Invitation Exhibition. This works were exhibited in International Biennale Exhibition and International Triennial Exhibition for more than 300 times in more than 45 countries, such as Japan, Korean, India, United Arab Emirates, Turkey, Thailand, Canada, United States, Panama, Brazil, Argentina, Chile, Venezuela, Mexico, United Kingdom, Norway, Slovakia, Czech Republic, Germany, Sweden, Yugoslavia, Italy, Spain, Portugal, Austria, Austria, Ukraine, Poland, Netherlands, Finland, France, Bulgaria, Belgium, Croatia, Hungary, Romania, Macedonia, Montenegro, Russia, Estonia, Azerbaijan, Lithuania, Egypt, etc. from year 1992 to year 2012. He has obtained 30 International Awards, 5 National Awards successively. He has hosted 10 solo exhibitions in Korean, Spanish, Slovakia, Canada, United States, Portugal and China.He participated in European 100 Cities Exhibition Circuit, where the artists' works were invited by Poland, and Artist Graphic Art Invitation Exhibition held by some countries during 2000 to 2003. His works were collected by art galleries, museums, galleries from more than 30 countries. His works and resume were published in more than 30 countries in English, French, German, Norwegian, Spanish, Portuguese, Romanistik, etc. He was approved to migrate to Hong Kong by Hong Kong Quality Migrant Admission Scheme Achievement in 2007.
Solo Exhibition:
1996 Sungkyunkwan University Gallery in Seoul, Korean.
1997 Freedom Gallery in Seoul, Korean.
1997 Art Park in Seoul, Korean.
1997 Gallery Solo Exhibition in Jongno-gu, Seoul, Korean.
1997 Spanish Barcelona Gallery.
1997 Shenzhen Museum.
1998 Slovakia National Gallery of Art.
1999 Canada Montreal Gallery.
2000 American University of Hawaii Gallery.
2008 Portugal Eova Town Hall.